MobileDemand is a hardware provider of rugged mobile tablets. Because the EZfeed tablet software is compatible with these tablets when they are running a Windows Operating system, some of our customers have discovered the Flex 10B has a different power adapter after sending their device back for a repair.
As part of the MobileDemand service contract, repairs for these tablets are done quickly, resulting in many of our customers recieving new tablets back after sending their Flex 10B in for repair. Because of the power cord change, the new devices they are receiving back require a new power cord adapter.
What do you need to do?
If you purchase a new MobileDemand Flex 10B this won't be a problem. We'll supply the correct power adapter with the purchase of the new device.
If you send in your Flex 10B for repair, you'll need to let Amelicor know so that we can send you the correct power adapter. To do that, you can contact your service rep or contact customer support.
The details of the new power cord change are below.
---
The New Power adapter is a smaller 3.5mm barrel jack.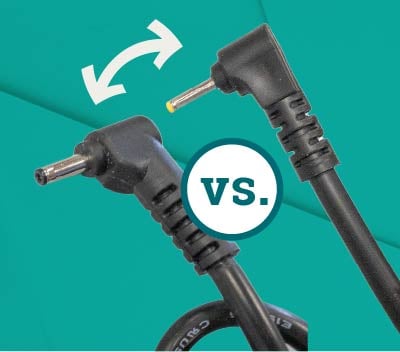 You will know if your tablet has the new power jack because there will be a sticker to the left of the serial number indicating that this is a 3.5mm Flex 10B model.