Dairy Nutrition Software
Feed Software Helps You Immediately Save Money on Dairy Cow Expenses
See how we do it.
Feed software answers the questions:
Are my cow rations being accurately created by my feeders?
Are the rations being fed to my cows in an even and consistent manner?
EZfeed gives you and your feeders the data to know how to increase accuracy. This alone will save hundreds and potentially thousands of dollars daily in feed expenses.
How Much Are Feeding Errors Costing You Every Day?
Most of your employees don't understand how inaccurate feeding can affect your dairy business when 50-60% of expenses go toward feed.
EZfeed dairy nutrition software gives you and your feeders the data to see exactly how accurately the rations are made and how accurately your cows are fed. This gives everyone the knowledge of how to increase accuracy.
Know What Happens At Work Even When You Are Away
Our customers can enjoy their evenings and don't struggle with invisible problems that wear away at their business.
Simplify Feeding
New employees will be easier to train, saving you time, and you and your employees will easily see how accurate the rations are.
Spotlight Invisible Problems
Everyone has problems that aren't easily seen, EZfeed can bring those problems to light which will help you find many solutions for feed optimization.
Enable Your Feeders
Give your feeders the tools and data they need to create the TMR created by your nutritionist and feed it accurately to your cows - it's the ultimate cattle nutrition software.
Make Decisions Based On Data
Confirm your intuition with data or test new ideas with this management software - and be more confident in your decisions.
Take Advantage of New Technology
EZfeed ration formulation software pays for itself quickly with savings on wasted feed and inaccurate rations.
Highlight Training Opportunities
Easily understand specific training topics on cattle feeding that you can teach the employees you manage.
We get it... feed is expensive.
Unmanaged feed costs and out-of-wack nutrition requirements can make your business feel out of control.
Join Thousands of Our Clients
Feeding 5 Million Animals Daily
Tracking 100 Million Pounds of Feed
Feeding 5 Million Animals Daily

Tracking 100 Million Pounds of Feed
"What a powerful tool for monitoring feed performance! My new feeder had some real problems with accuracy. By using his accuracy report to show him where he needed improvement, he moved his error percentage from 6% to 2%. That is the difference between acidosis and good cow health."
How To Get Started With EZfeed Software
1
Tell us about your equipment and feeding process
Schedule a call and we'll talk about how your existing equipment can be used with EZfeed.
2
Let us put together a quote
Understandably, everybody wants to know how much EZfeed costs – the information from the call will help us give you an exact quote.
3
Begin saving on your feed expenses
We'll help train your feeders and get EZfeed set up on your farm so you can begin tracking everything.
We have this experience many times each year… a potential customer tells us it's just too expensive and they decide to wait to install the system.
Months go by and sometimes years, and they come back frustrated with their feed management process. They decide to install EZfeed feed formulation software… and within weeks, they come back and tell us they should have done it a long time ago. Usually, they also tell us how they are saving hundreds or even thousands of dollars a day (depending on the farm size), and it's not too long before they tell us EZfeed has paid for itself!
So, schedule a call today and stop worrying about how the dairy and beef cows are being fed while you're away, and start looking at the data to see how your feed nutrition requirements can improve.
The EZfeed System
Your Personal Animal Feeding Data Cloud
EZfeed software is a feed management and cow ration formulation tool. On a basic level, it helps you optimize your animal feed operation. EZfeed does this by helping owners and managers track feed inventory and rations. Then it provides feeders with a highly accurate and simple way to build and deliver those rations to each pen.
EZfeed has three main parts:
The desktop software—is where all the data is stored. Add your ingredients and rations, and use reports to evaluate feeder performance and analyze feed data.

The tablet software—is installed on mobile devices in your tractors and mixers so your feeders know how to create the rations and how much to feed to each animal pen.

The mobile data—is your cloud data that gets pulled from the desktop software. See it on your phone or another computer to get critical reports about your feed process, or make changes remotely.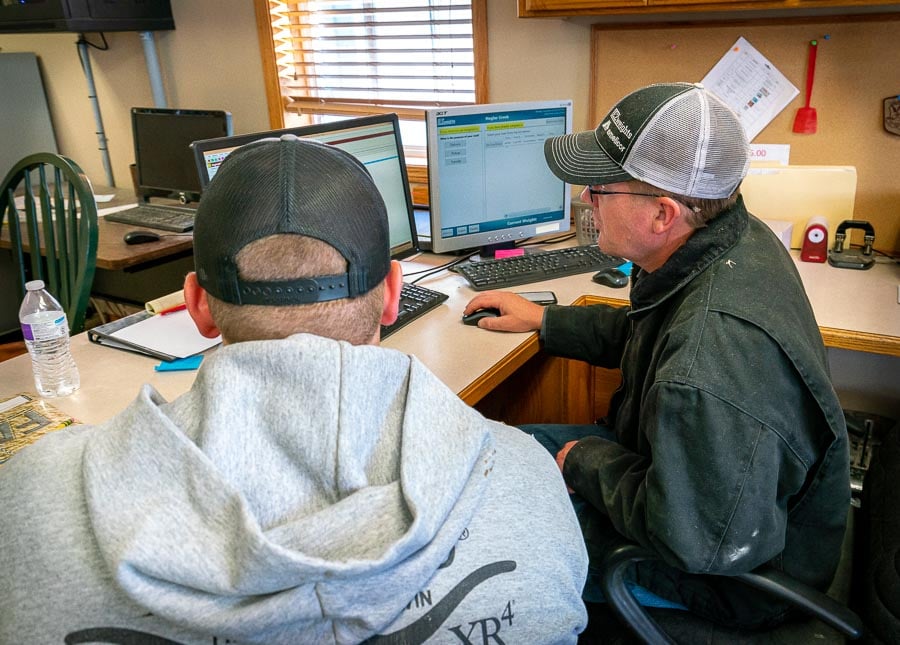 Core Software
EZfeed Desktop Software
EZfeed Desktop is where the core information is entered into the software. You simply enter your ingredients, rations, and pens, and that information is transferred to the tablet software so you are ready to feed.
EZfeed software resolves these basic feed management problems:
Feeding Performance Feedback

Historical Data Management
Batch boxes and stationary mixers

Fully automated external batching systems
Also, EZfeed management tools include a practical feature called feeding scenarios which allows you to prepare for an irregular supply of ingredients in advance. It's a ration feed library ready for you to use in instances where a feed supplier is not very dependable. You can have alternate rations setup that can be accessed immediately if you run out of an ingredient.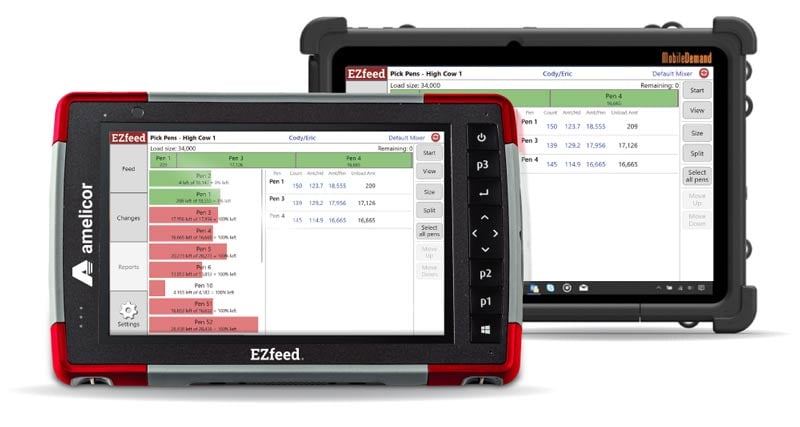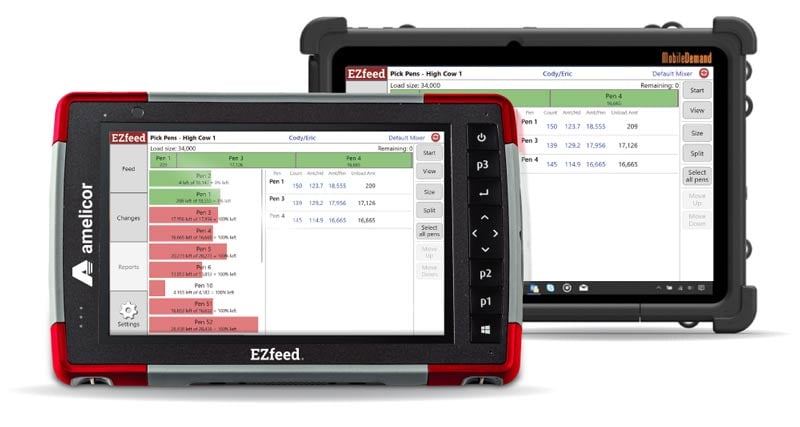 Feeder Software
EZfeed Tablet Software
EZfeed paired with a rugged tablet is the ultimate productivity tool for feeders. With a large easy-to-see display and a version of EZfeed that has been built to be out on the farm and user-friendly, you'll discover more ways to be efficient.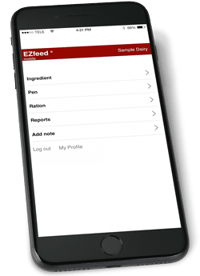 Mobile Software
EZfeed Mobile
The EZfeed Mobile service gives you the freedom to use EZfeed on the go. It gives you vital real-time feed information on any device wherever you have internet access. With EZfeed Mobile service you can get real-time feed data and it gives you the power to change certain critical data including:
Pen Counts, Bunk Calls, and Target Feed Amounts