DHI-Plus Desktop Software for Herd Management
Efficiently Manage Your Entire Herd
With the DHI-Plus herd management desktop software, dairy owners and managers can effectively manage their herds, improve cow health, and increase profits. The software enables quick and efficient data entry of important information, such as vet actions, production data, breeding data, health treatments, and genetic data, which can then be analyzed to make informed decisions.
The Core of Your Dairy Operation
The DHI-Plus desktop software stores all of your day-to-day tasks, vet actions, production, breeding, health, and genetic information. After configuring the desktop software with your preferred settings and options, the handheld software enables you to swiftly record your daily activities, which are then saved in the desktop software.
Then, DHI-Plus software offers many ways for you to understand the information collected daily on the farm. You can track trends to be aware of problems or opportunities, collaborate with consultants by sharing your records, or analyze your herd on an individual cow basis to optimize your overall production.
Personalize Your System with DHI-Plus Options and Settings
The DHI-Plus options and settings allow you to automate key parts of your operation or personalize the type of data you want to record daily. Some of the popular options are: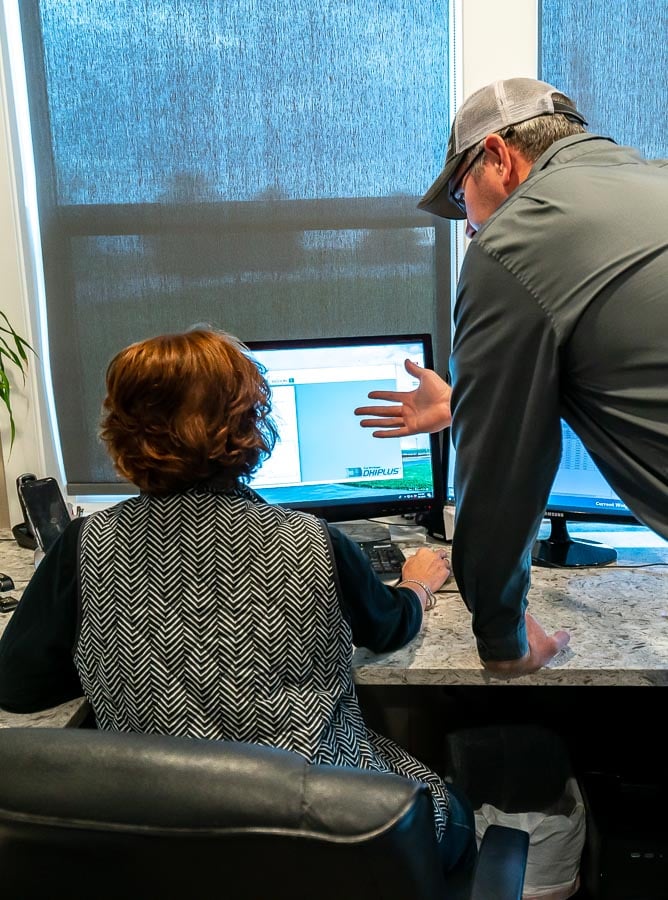 Automate Health Entries
DHI-Plus software simplifies data entry for complex actions requiring multiple data points, such as recording pregnancy data:
The software can add a health statement to the animal's record indicating when she was marked pregnant and for how long.

This automation ensures consistency and accuracy in data recording, enabling you to answer critical questions such as "How many pregnancies are we getting every week... or every month?"
Automate String Changes Based on Events
String changes can be hard to keep up with, but you can use DHI-Plus to automate the process of assigning strings to animals.
You can specify a string for dry or fresh animals and change the string automatically.

Automatically log all string changes and run reports to determine how long an animal has been in a specific string.

Specify a hospital pen to automate health-related questions, such as the duration of treatment or time spent in the hospital string.

Define a string number for a bull pen and simplify the recording of cow and heifer exposure to the bull based on when they are added to that string.
Tailor Your Data Capture
Take control of the data you capture with DHI-Plus by creating your own user-defined fields. Here are some examples of how user-defined fields can be used:
Record the last time a cow's EID tag was scanned in a user-defined field, making it easier to locate missing animals.

Assign a user-defined field to track milk production and SCC counts when a cow goes dry, helping you identify potential mastitis candidates later.
The Cow Display
Get a Quick Overview of Each Animal's Record
The Cow Display provides a comprehensive summary of an animal's record, including important information such as meat and milk withhold dates, bred status, days open, and last calved date.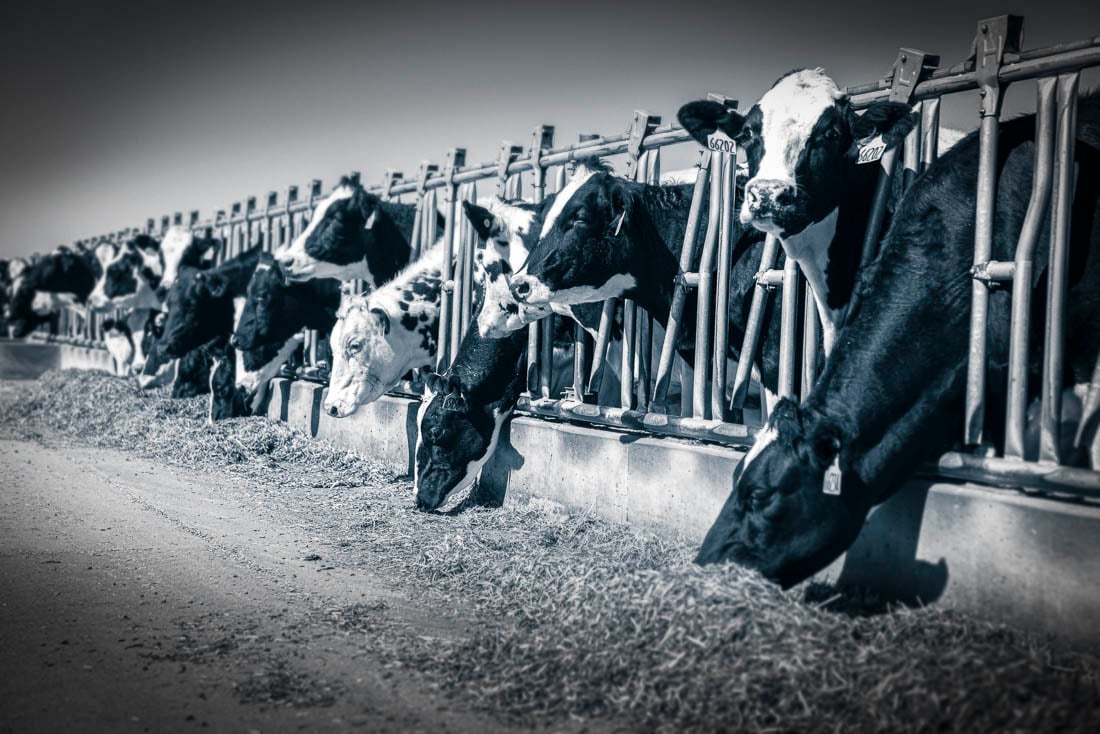 The display also shows automated information based on the options set up in the system, such as string changes and breeding and health history.
See an animal's string change history, including the current pen and the previous pen the animal was in, as well as the length of time in the current pen.

The Cow Display also provides an overview of the animal's health history, including any auto-health entries that have been recorded.
In addition, if you are participating in milk test processing with genomic testing, DHI-Plus imports your genetic data alongside the other cow data allowing you to:
View genomic data such as NM Dollars, DPR, date of last evaluation, and the data source.

Additionally, you can create reports to rank animals by their genomic data helping you make informed decisions regarding your breeding program and other business operations.
Put Your Data to Work with Data Analysis Tools
With DHI-Plus, there are many data analysis tools available to help you make sense of the information you've recorded during your daily operations.
Analyzing Events
To get a quick glimpse of trends, you can use the event analysis tool to count the number of events within a specific area, including:
Open and pregnancy events - view the number of occurrences recorded during vet checks and sort them by month.
Track the number of cows that have aborted.
Assess mastitis cases by month.
This rapid insight can help with making changes, evaluating seasonal patterns, or predicting future outcomes.
Analyzing Breeding Performance
DHI-Plus makes it easy to evaluate your dairy reproduction program with a comprehensive reporting tool that analyzes your cows' pregnancy rates. With this tool, you can easily identify key indicators that affect your herd's breeding performance.
Get weekly pregnancy rates and other key indicators over a specified period to track your herd's breeding performance.
Calculate the total average pregnancy rate, conception rate, and heat detection rate for the specified period.
Plan for the future and see how changes will impact your pregnancy rates.
Generate comprehensive reports with charts and graphs to easily evaluate your reproduction program.
Excludes cows marked "Do Not Breed" from the report and displays the number of cows excluded.
Auditing Your Data
The audit tool is an essential tool for maintaining accurate herd records.
View all data entered on a specific date for quick verification.
Correct errors or omissions in the data to optimize your herd management decisions.
Unlock the Power of Cohort Group Analysis
Want to get the most out of your dairy herd? DHI-Plus offers a powerful tool to analyze inventories and trends for defined subgroups of your herd. By defining custom or built-in groupings, producers can identify the level of impact events or conditions have on the herd. Cohort Analysis is an effective means to evaluate your herd and identify areas of opportunity to set goals and improve.
Get comprehensive reports on your herd's performance using variables such as cows calved, string, or somatic cell counts
Evaluate your milk production data with reports such as 305 ME or test day production.
Select from many transition data items as a very effective tool to monitor transition cows and the dairy personnel who are caring for the cows.
Evaluate cohort groups based on health events such as mastitis, milk fever, retained placenta, metritis, ketosis, pneumonia, or laminitis.
Evaluate other parameters including days dry, days in the close-up pen, level of somatic cell counts, age at first lactation calving, calf sex, reasons for leaving the herd, and the protein-to-fat ratio… there are many possible options.
Cohort group analysis is a powerful way to evaluate herd performance as your herd size increases. With analysis of cohort groups, producers and consultants can quickly respond to changes within the herd, much sooner than with traditional milk recording and DHI herd summary reports.
Custom Reports and Daily Task Lists
Custom reports are one of the core strengths of DHI-Plus. With them, you can turn your daily data records into powerful task lists that help you manage your herd more efficiently. Here are some of the things you can do with custom reports:
Choose from hundreds of built-in reports, including favorites like the vet checklist, cows due to dry list, or cows due to calve list.
Create worksheets that let you check off tasks as you complete them on the farm.
Quickly identify animals that need to be culled based on production, reproduction, or somatic cell count.
Print out your task lists or send them to your mobile device for a more efficient management tool.
The integration of our mobile system with RFID technology makes this even easier. You can quickly look up animals, match them to tasks, and record treatments within the mobile software, allowing you to manage hundreds of animals every hour with ease.
Analyzing Conception Performance
The Conception Report is a powerful tool for tracking the conception rate of your dairy herd. The report allows you to view the conception rate by technician, lactation group, sire, day of the week, or string (and many other variables) to help you identify areas where you can improve. With this tool, you can make data-driven decisions to optimize your breeding program and improve overall herd performance.
Manage Animal Health with Rx Tools
DHI-Plus gives you the power to manage your herd's health with Rx Tools, a comprehensive solution for tracking animal treatments and ensuring compliance with FDA regulations. With this tool, you can improve your herd's health and maximize milk production.
Here are some common uses of the tool:
Create and maintain a custom drug library.
Track the treatment route, dosage, and number of treatments, and keep track of the milk and meat withhold periods for each drug.
Assign a protocol to each drug to automatically keep track of future doses needed to complete the treatment.
The DHI-Plus handheld software, combined with RFID technology, makes it easy to look up animals and check for needed treatments or quickly record treatments.
Comprehensive Herd Overview
The Personal Herd Profile gives you a comprehensive overview of your herd's data in one convenient location. For those that are doing monthly milk tests and having their records processed, this tool offers valuable summaries and visualizations for better decision-making.
Stay informed about your rolling herd average, a crucial metric for evaluating overall performance.
Compare your herd's performance against county, state, and regional benchmarks, helping you identify areas for improvement.
Dive deeper into historical data with user-friendly and visually appealing graphs. Copy and paste these graphs into other programs, such as spreadsheets, for effective communication with your banker, vet, or team.
Explore different sections dedicated to inventories, somatic cells, heat detection, and reproduction, allowing you to focus on specific aspects of your herd's performance.
Choose from a range of visualization options, including scatter plots, multiple series graphs, and lactation curves, enabling you to interpret your data from various perspectives.
Streamline your data entry process with intuitive data input interfaces for recording various types of data, including breedings, calvings, dry dates, vet checks, and departures from the herd. These efficient tools ensures quick and accurate data entry.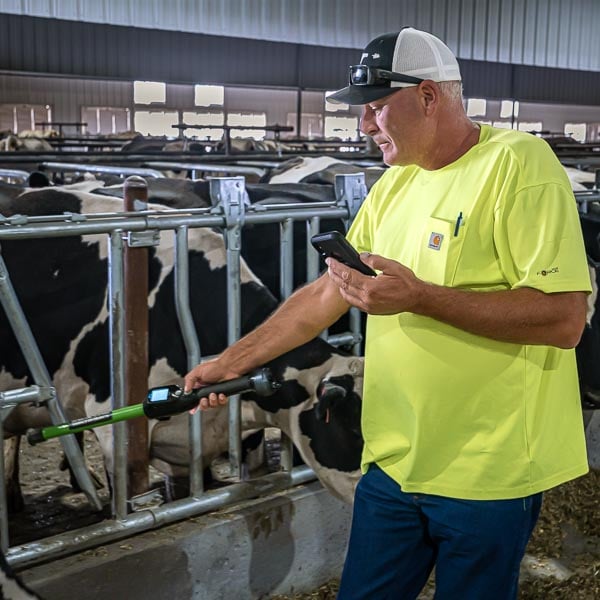 Macros
Simplify repetitive tasks with macros, which are predefined sets of actions. For instance, when recording vet check results, you can easily access a list of cows that meet your vet check criteria and use macros to swiftly input the results for each cow. With a single keyboard shortcut or simply clicking on the macro name, relevant fields will automatically populate. Macros enhance data entry efficiency and accuracy for smooth record-keeping.
Seamless Data Entry on the Move
Enhance your data entry workflow with the Mobile/Handheld software, giving you a seamless and efficient solution for recording information while out with your animals. The handheld offers multiple advantages because your task lists are synchronized electronically, then the work is recorded on the handheld device as it is completed. Afterwards, the data is synchronized back to the desktop software making it ready for further analysis.
Task List Integration: Begin any task by creating a report to group animals together, then easily generate a task list to be sent to the handheld software. This integration streamlines your workflow and ensures that necessary tasks are organized and readily accessible.
Accurate Identification: The handheld software ensures precise animal identification, minimizing errors in data entry. Easily locate animals on your list using RFID, saving time and ensuring accuracy.
Efficient Data Recording: Benefit from efficient scripts that allow for recording multiple tasks at once. With streamlined data entry processes, you can quickly record the necessary information, optimizing productivity.
Automatic Data Sync: Enjoy automatic synchronization of recorded data back to the desktop computer. Eliminate the need for manual data input, ensuring that your information is already available for further analysis.
Maximize your workflow efficiency by using the Mobile/Handheld Software to streamline data entry and enhance productivity, allowing you to focus on essential tasks.